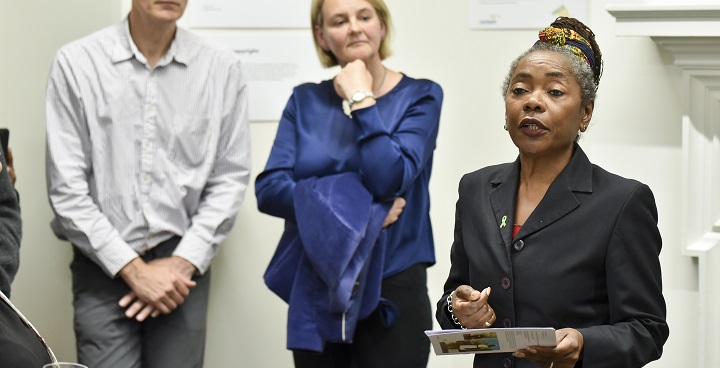 June 22 marks the anniversary of the arrival of the Empire Windrush at Tilbury Docks, bringing workers from Caribbean islands to fill post-war labour shortages in the UK. The ship carried 492 passengers – many of them children. It marked the dawn of multicultural Britain. Windrush Day gives Lambeth a time to celebrate how Caribbean men and women built their lives in Britain and how their contributions to the community have assisted the development of a more inclusive society.
 Word from the Cabinet
 Cllr Sonia Winifred, Lambeth's Cabinet Member for Equalities & Culture, said: "The Windrush Generation proved to be a huge asset for post-war Britain, and nowhere is the contribution of these British citizens and their children more evident than in Lambeth. It was to Lambeth that the majority of the passengers from the Caribbean headed when they disembarked the Empire Windrush 70 years ago. Lambeth is proud of that history and remains an open, tolerant and diverse borough. So for Lambeth celebrating national Windrush Day is hugely important, and we have a packed schedule of events through the month to mark it. I'd ask that as many people as possible get involved and enjoy the brilliant programme events we are putting on throughout June."
Events to celebrate Windrush 2019
Before and After Windrush: 350 Years of Black People in Lambeth 
A free exhibition to celebrate the presence of Black communities in the borough over the last 350 years.  Hosted at Lambeth Town Hall the show features the work of the photographer Harry Jacobs which provides an extraordinary visual record of the Black community in Brixton between the 1950s and the 1990s, and also uncovers the lives of black people living in Lambeth in the seventeenth and eighteenth centuries using parish registers, poor law records and other documents from Lambeth Archives.
5 June – 5 July, Monday-Friday 9am to 6pm, and Saturday 22 June; 10-5pm, Lambeth Town Hall.  Curator talk; Monday 1 July at 6.30pm, places are limited, to book please email: Artsweb@lambeth.gov.uk
What does Windrush mean to me? Discussion for young people
Last year Windrush Day was announced to honour the community – but for years the 'Windrush scandal' had been developing – a hostile environment was created to deny those very people and their descendants. Suddenly, Windrush wasn't 'history'. School Bookings only: email libraries@lambeth.gov.uk Thursday 20 June, 11am Streatham Library
Beyond Windrush: Tracing African Caribbean Ancestry
Want to trace your family tree? Struggling to reach ancestors from before your grandparents? Paul Crooks (author and trailblazing genealogist) reveals top tips to get you started. Thursday 20 June 7pm Streatham Library https://ancestrysl.eventbrite.co.uk
Corpus Christi School Assembly
A Windrush-themed assembly by pupils from Corpus Christi Primary School.  Friday 21 June, 10.00-11.30am, Assembly Hall, Lambeth Town Hall
Windrush Day 2019 – 22 June
A commemoration service on Windrush Square lead by WASP. Gathering from 11am on Max Roach Park, WASP and guests will march to Windrush Square, for a commemoration service and speeches.  A dominoes tournament will follow, between 2-5pm, with pop up performances from the Buru Drummers at 2pm and Arts Bridge presenting Windrush Stories at 2.30pm. The Town Hall will be open to view the Before and After Windrush Exhbition and the day will end with a Tea party for older residents in the Assembly Hall, Lambeth Town Hall (invitation only) 3-5pm.
Family Fun Day and Windrush Exhibition at Black Cultural Archives
Including an exclusive Windrush Generation exhibition, stalls, performances, storytelling, live music and BBQ. Family Fun Day on 22 June, 1-6pm.  Black Cultural Archives, Windrush Square. Brixton. SW2 1EF www.blackculturalarchives.org
Black Culture Pop-Up Market: Windrush Special 
Black Culture Pop-Up Market returns again for a weekend showcase of black businesses across the African and Caribbean diaspora at Impact Brixton and Pop Box. Featured Stalls: Tihara Smith (giftware), Bami London (men's handmade accessories), Blissful Kitchen (vegan Caribbean food) and Kultural Clothing (T-Shirts). 22-23 June, 11am-5pm.
The Stuart Hall Project with post-film discussion
Weaving between the music of Hall's favourite musician, Miles Davis, and the 20th century's defining political moments, John Akomfrah creates an intimate and engaging portrait of the life and work of one of the UK's leading cultural theorists. Saturday 22 June, 3.30pm to 5.30pm West Norwood Library and Picturehouse Tickets £8 per person. Visit www.picturehouses.com, call 0871 902 5747 or go to the Box Office.
Winston Nzinga – Windrush storytelling
Listen and sing along with music and song from the Windrush generation. A lively, interactive storytime, where you will hear traditional tales, come and play a drum, a shaker or bell. Ages 5 years and above. Sunday 23 June 2.30pm Brixton Library.
Family-focused Safety and Social media discussion
Family-focused meeting at Lambeth Town Hall along with guest speakers Stefan Brown and Paul Mckenzie, with refreshments provided by the Karibu Centre. Saturday 29 June, 12-5pm.  Assembly Hall, Lambeth Town Hall.
The Rapport Festival 2019 
Rapport Festival is back in Brixton for its third year.  Taking place in various locations around Brixton between Friday 28 and Sunday 30 June, they'll be delivering a mixed bill of visual art, theatre, dance, music, cinema and talks and debates focussed on arts, stories and experiences from across the international African diaspora. For more information visit the Rapport Festival website.
For a round-up of events going on across London, visit The voice website