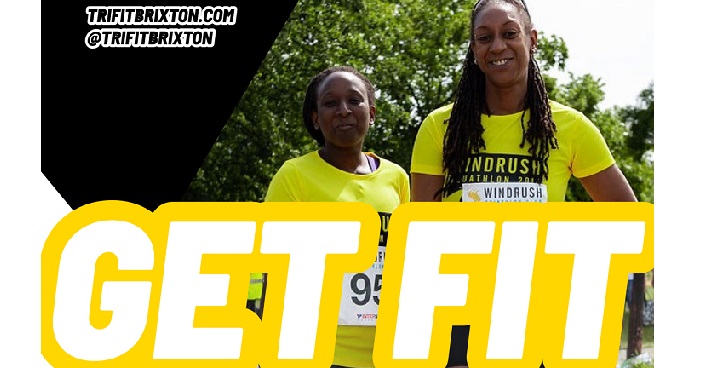 Windrush Triathlon club are Brixton-based – named after Windrush Square to show pride in the history and diversity of the local area – and offer fully qualified coaching for running, swimming and cycling for members of all communities.  This year they're relaunching their special training programme to help you get from any level of fitness ready for a big sports event – the Windrush Aquathlon – in just 6 weeks.
Windrush Aquathlon
The Windrush Aquathlon on 6 June is a 200m swim immediately followed by a 2.5k run. It's an annual local event that had been running for 9 years in Lambeth's beautiful Brockwell Park and Lido. Obviously 2020 was impossible but 12 spots are available for people of all to train on this year's 10th programme.
Inclusive and fun
Gesine Junker from Windrush Tri club says: "We want to run the programme for 2021 because of the positive feedback we received in 2019. This included 83% of participants saying that the programme met our aspirations of being inclusive, fun and helping them to achieve personal goals"
Triathlon for everyone
"We're easy-going, very friendly and welcoming – however, we're really aware women and people from Black, Asian or Minority Ethnic communities are under-represented. We want to show the local community that triathlon is for everyone. Our doors are open to members of all communities who might be interested in giving running, cycling or swimming a go."
Covid-secure training sessions
Government guidelines on Covid restrictions mean no swimming sessions until 17 May, but all the running and strength and conditioning sessions starting from 1 May will be run in a Covid-secure way, with social distancing and outside. We are operating within British Triathlon's guidelines, as our National Governing Body.
More information