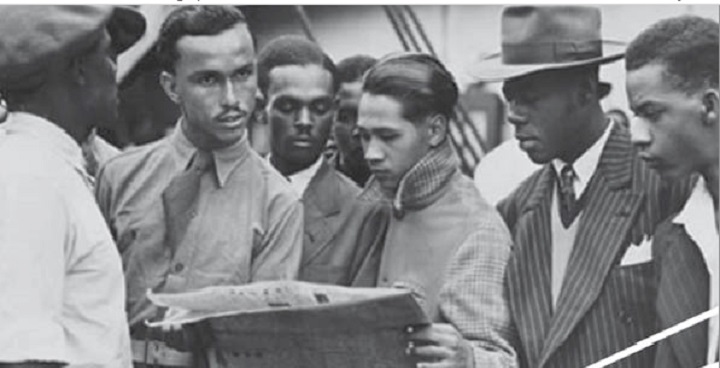 The arrival of 492 passengers from the Caribbean on the 22 June 1948 marked a seminal moment in Britain's history. The men and women who came to Britain contributed significantly to rebuilding the country following the war and their settlement has continued to enrich social, economic, political and religious life.
Cllr Lib Peck, Lambeth Council Leader, said: "Lambeth has a pivotal role in the Windrush story and is a borough proud of its diversity and openness. I'm absolutely delighted that its young people from Brixton who've created these designs and hope the whole country will celebrate not just Windrush 70 but the great cultural, social and economic enrichment that the Windrush generation and subsequent migrants have brought to this country."
The below events are happening throughout the next month to celebrate Windrush70:
On now until July 5th Harry Jacobs exhibition in Lambeth Town Hall – free and open from 8am-8pm every day. People can also sign up for curator talks at lunchtime and evening.
June 14th House of Commons debate celebrating Windrush70 tabled by Helen Hayes MP for Dulwich & West Norwood
June 16th Professor Sir Hilary Beckles talk in Brixton Library The Windrush Legacy: Rights and Reparations
June 18th An art installation will be unveiled in the courtyard of the Black Cultural Archives, (time tbc) – local artist Kofi is making a suitcase installation to mark the Windrush arrival, sponsored by Sackville Travel and there will be other installations around Brixton in following weeks. Light projections of images onto BCA building all week.
June 18th Arthur Torrington Windrush Foundation lecture at St Margaret's Church, Westminster Abbey
June 22nd Tea Party for older residents in the Town Hall (invitation only). A commemorative cake will be supplied by Healthy Eaters in Brixton, and goody bags and commemorative pins will be given to all attending.
June 23rd – 12-6pm Windrush Square event: music, food and performances in the square plus a mega dominoes tournament, Caribbean food and childrens' activities at the BCA . Also walking tours with Kelly Foster.
Windrush Foundation talks in Lambeth Town Hall throughout June organised by Windrush Foundation
June 22/23/24th Clapham South Underground Shelters pop up exhibition on Clapham Common – organised by London Transport Museum
June 28 The Windrush Foundation are holding a public memorial for Rudy Narayan, civil rights lawyer and co-founder of the Afro-Asian and Caribbean Lawyers Association, from 7-9pm on at Lambeth Town Hall
For a round-up of events going on across London, visit The Voice website.