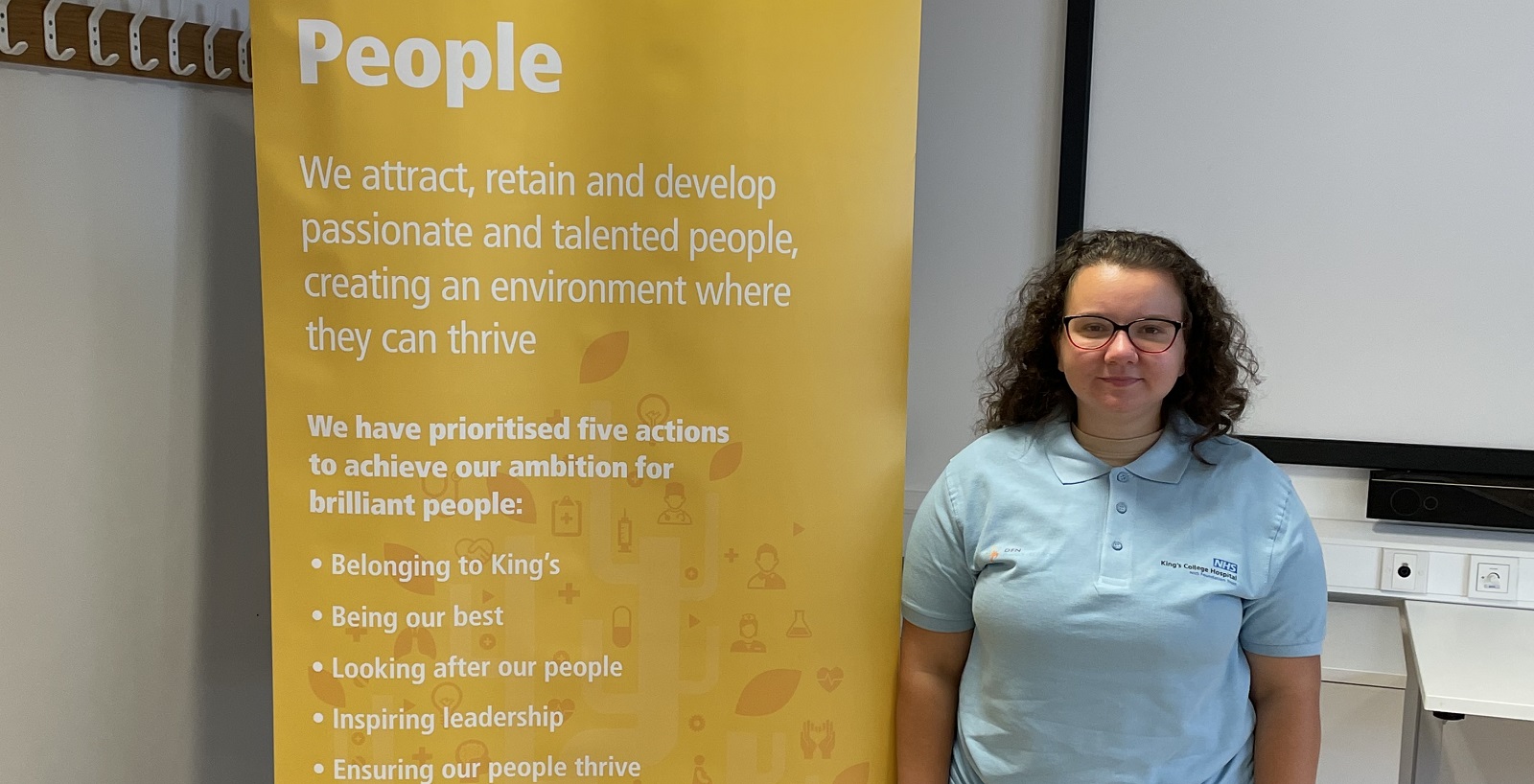 Lambeth Council is part of a partnership giving young people with learning disabilities, including autism, a chance to learn and work over year-long Supported Internships at King's College Hospital. Four of the young people studied at Lambeth's Elm Court specialist school, three at Lambeth College. Lambeth College and Unity Works are also partnership members.
Autumn to Spring to Summer
The Project SEARCH interns started work at the Trust in September in different areas, including ICT, operating theatres, catering and portering. They are now halfway through their second placement in different work areas. The interns' second placement will last until the Easter school holidays, when they move into their third and final placement at the hospital, which lasts until July 2022.
First place placement
Gabriela Marques, one of the interns (photographed above), spoke positively about her experience at King's and placement with the Trust's Chest Unit, the location of her first placement.
"I love the placements that I'm in. I loved the team and they helped me when I needed it and they always answered my questions. When I graduate I want to work in the Chest Unit at King's College Hospital."
Vital team members
This is the first time King's has supported interns from Project SEARCH – and by participating, the Trust aims to make a positive difference to the lives and opportunities open to young people.
Professor Clive Kay, Chief Executive of King's College Hospital NHS Foundation Trust, said: "We are proud of our interns, who have been working at the Trust for a few months now. They are vital members of Team King's, and it is great to see their confidence grow with each day they are here."
More information
Project SEARCH is a national programme for people aged 18-24 years old with learning difficulties and/or autism to gain work experience.
The Project SEARCH interns based at King's College Hospital and they are being supported by Lambeth College, Lambeth Council and Unity Works, an organisation which supports people with a learning disability to gain skills and secure jobs. Find out more online at Work experience – King's College Hospital NHS Foundation Trust (kch.nhs.uk).
The programme is a Lambeth Made initiative contributing to the Youth Promise, Lambeth's commitment to supporting 16-30 year olds into employment