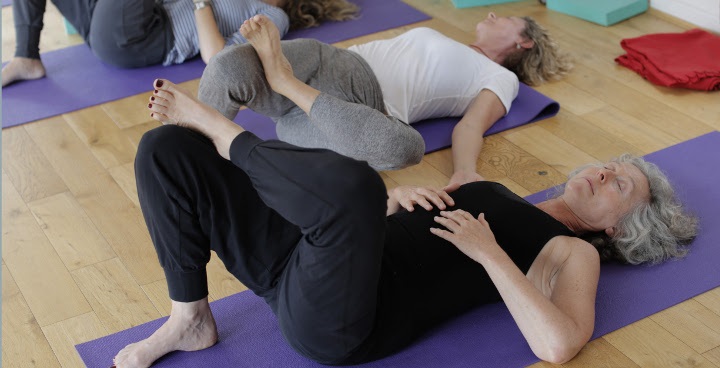 An 8-week introductory class of 'restorative yoga' (10 May to 5 July) is free for residents living in the Vauxhall Gardens Estate.
Never say "it's not for me"
Teacher Philippe is particularly driven to encourage people who would normally feel that it 'wasn't for them' to discover yoga. His motivation is to convince all kinds (and shapes, and abilities) of people that yoga can be a wonderful thing. He has sometimes described his classes as "yoga for non-stretchy people – but it might be more accurate to say that it is a non-forceful practice that allows the body to unfold in a natural and healthful way".
Yoga tradition
Anyone who is geeky about yoga might want to know that this yoga tradition was started by Vanda Scaravelli, who taught that releasing tension in the body and tuning into how the body feels in the present moment is an incredibly helpful thing to learn.
Meeting in the here and now
Philippe has studied and practised yoga for over 30 years, and lived and worked in Lambeth for 20. A few months ago he met David from the Carmelita Centre in Vauxhall. David had advertised for volunteers to help look after garden beds in the community centre. This was perfect for Philippe (and his partner), who wanted to grow kitchen herbs, but couldn't commit to an allotment. They're happily growing a community herb garden.
Inviting the community in
"The conversation quickly moved onto how to make the Carmelita Centre more than a community hub for the estate, but one that includes the wider community. One way is offering more classes for adults. This first yoga class is designed to be inclusive, encouraging people to connect socially and develop their well-being."
---
For more information
If you are interested in booking the yoga class, please email the Carmelita Centre
If you don't live on the Vauxhall Gardens Estate but would like to come, the price is £10 per session, or £72 for the whole term. Yoga mats are provided, please wear comfortable clothes such as loose gym clothes.
Follow the Carmelita Centre on Twitter or Facebook, or see their information pages
For more about Philippe and Scaravelii Yoga see his information pages
If you're new to yoga  and want to find out more, watch this YouTube video