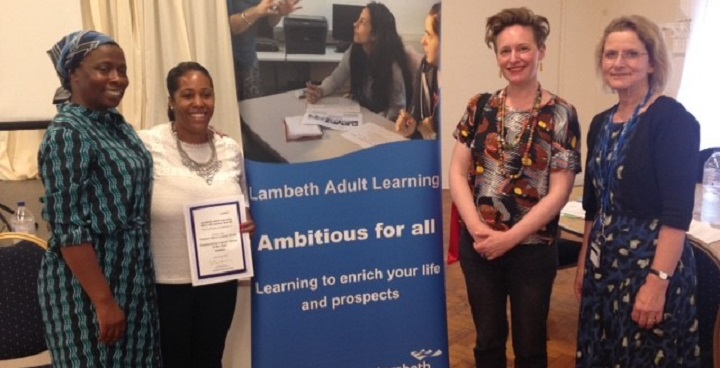 120 guests helped Lambeth Adult Learning celebrate outstanding learners and tutors, chosen from over 500 courses and 3,000 residents who took part in learning programmes.
Family literacy
Among the eight awards presented was one for Outstanding Learner Group of the Year to Clapham Manor School's Family Literacy Programme. The group consists of parents learning about how literacy is taught to their Key Stage 1 children and helping them develop resources, games and strategies to use to support their children's learning. Nominator Marie Lenclos praised the group who had "found that through learning themselves, they became better able to support and encourage their families".
Surprise and honour
The learners were thrilled with the progress both they and their children made. Collecting the award on behalf of the group, learner Donna Stone said, "It was a complete surprise but a real honour to win the group award for our adult learning/literacy group. Being part of the group was a great experience and winning the award was the icing on the cake!"
Positive impact on parents and children
Jane Christofi, the school's Assistant Head, was also excited to see the impact of the course, saying, "It was great to see that everyone got so much out of it. It makes it all worthwhile that it is not only having an impact on their children but also on each of them".
Word from the Cabinet
Guest of honour Councillor Jennifer Brathwaite, Deputy Leader of Lambeth Council, congratulated all the winners saying, "Lambeth Council are very proud of our Adult Learning Service. We've heard some wonderful learner stories and we know just how much all of our learners achieve, sometimes in very challenging circumstances."
---
For more information
To find out more about Lambeth Adult Learning's courses, email them