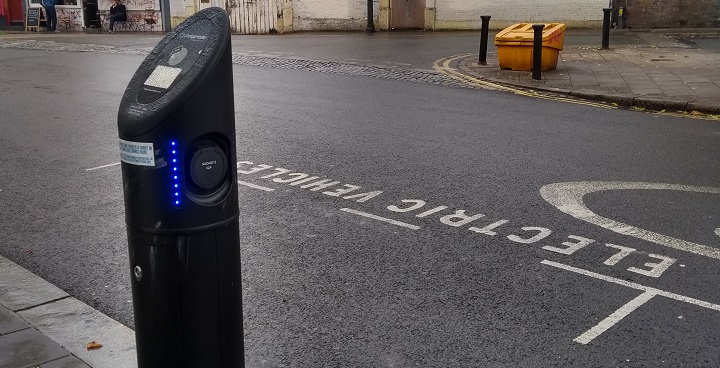 The chargers, spread across the borough and part of the first wave of installations, will enable people to move to electric vehicles, reducing the pollution on London's roads.
The roll-out of electric charging points is a key part of Lambeth's Air Quality Action Plan, designed to reduce air pollution in order to protect residents' health.
Lambeth now has a total of 140 electric vehicle charging points in the borough, with 116 installed in the last 12 months. These are a mixture of rapid charging points, chargers placed in existing street lamp columns and TfL points for charging electric freight vehicles and taxis.
Residents can find out where their nearest charger is by visiting ZapMap, which plots all charging points in London. This map is currently being updated with Lambeth's new chargers.
The council has committed to having more than 200 in place by 2022.
Word from the Cabinet
Cllr Claire Holland, Cabinet Member for Environment and Clean Air, said: "Toxic air is a silent killer and we are committed to tackling this issue through a whole range of measures.
"Part of that is encouraging our residents to ditch polluting vehicles and use alternatives such as electric cars, so it is vital we provide the infrastructure to help them do that.
"As more and more people and businesses are looking to switch to electric vehicles, these new charging points will ensure that Lambeth keeps pace with this technological and societal change, which will have a fundamental effect on our air quality."
Air Quality Action Plan
Lambeth's Air Quality Action Plan sets out exactly how Lambeth is tackling the issue of poor air quality in the borough.
The council are well underway implementing various measures, including installing green screens at primary schools in our most polluted areas, piloting a series of road closures around primary schools during drop off and pick up times, working with the Mayor of London to introduce a clean bus corridor in Brixton that came into effect in 2017 and developing bold plans for Brixton town centre to dramatically reduce traffic as part of the Mayor of London's Liveable Neighbourhood programme.