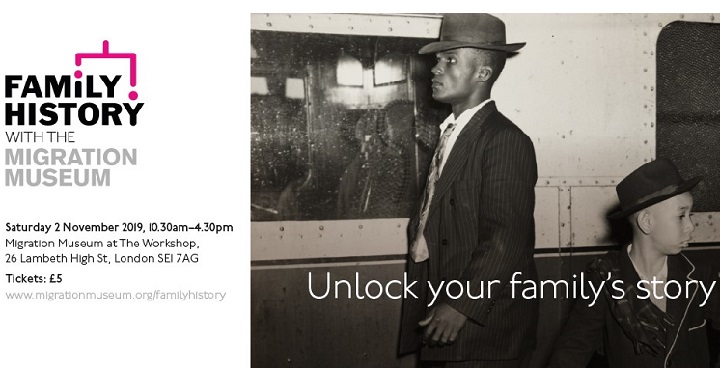 The Migration Museum's first ever Family History Day on 2 November offers an accessible way for audiences of all ages and backgrounds to unlock and explore their family story – whether you're brand new to family history, or have become stuck with your research and don't know where to turn next.
Speakers
Our headline talk will be given by Robert Rinder, speaking about his experience on the BAFTA award-winning TV series Who Do You Think You Are? Other speakers include journalist and best-selling author Robert Winder; and migration and family history specialist from The National Archives, Roger Kershaw .
Inspiring your own research
Visitors will have the chance to find out more about genealogy and archival research, experience interactive installations on British history, hear from experts and social historians, and explore their own history at a series of stalls and workshops – leaving inspired and empowered to continue their own research independently.
Win a walking tour
We have a special ticket deal for community and history group bookings. Register for ten tickets or more and we will enter you into a raffle to win a free Migration Walking Tour of part of London.
Partners
Our partners on the day are the National Trust, The National Archives and London Metropolitan Archives. We will also be joined by organisations including Black Cultural Archives, The Society of Genealogists, the British Local History Association, Commonwealth War Graves Commission, and many others.
Booking and tickets
Family History Day is Saturday 2 November 2019 at The Workshop, 26 Lambeth High Street, SE17AG  10.30am – 4.30pm. Tickets are £5 and you can book online via Eventbrite.
Use the code LAMBETH20 to get 20% off tickets https://www.facebook.com/events/423687141609587/
For more information
For more about the Migration Museum's family history day
For more about the museum's partners: