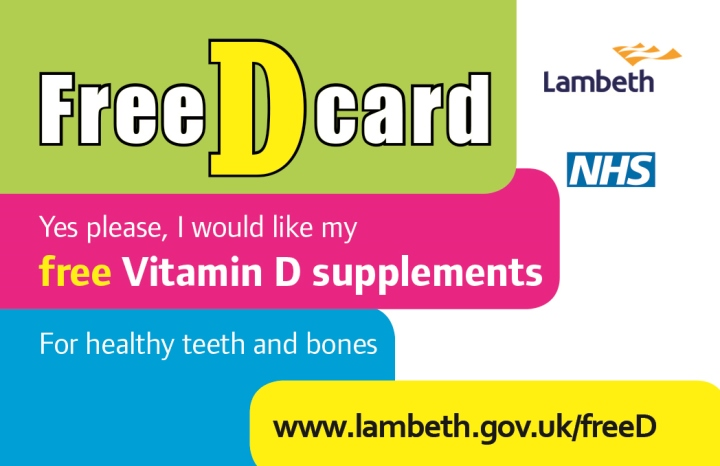 Across Lambeth all pregnant women, new mums and children under four can now get free supplements of vitamin D, which is essential for healthy bones, thanks to the new Free D scheme from Lambeth Council and the local NHS.
The move comes on the back of concerns about the increase in rickets and other impacts of low levels of vitamin D that can include bone and muscle pain, a soft skull, weak teeth and delayed walking in infants.
Where can I get vitamin D?
If you are pregnant or have children under four you can register for your free vitamins at most community pharmacies across Lambeth. When you register you will receive a Free D card.
Free Vitamin D – pharmacy list
Why is vitamin D important?
Vitamin D will help the bodies of both mother and child to absorb calcium, which is essential for keeping bones healthy throughout life.  When pregnant women don't get enough vitamin D their children can be more at risk of rickets, seizures and even heart failure.
For pregnant women supplements make sure that their own needs for vitamin D are met and also that they have enough vitamin D to pass onto their developing baby. This will also help make sure that their baby is born with enough stores of vitamin D for the first few months of life.
After birth, mothers can continue to get vitamin D supplements for a year along with vitamin D drops for their child until they reach the age of four.
Eating the right things and some natural sunlight can help
You can read more about Vitamin D on the NHS Choices website:
Dr Ruth Wallis, Lambeth and Southwark's  Director of Public Health, said: "The body needs vitamin D to ensure the growth and continued health of bones and teeth. The best natural source of vitamin D is sunlight on the skin. However the sun in the UK is only strong enough between April and September. While vitamin D is present in small amounts in some foods, such as oily fish and eggs, it is difficult to get enough vitamin D from food alone, no matter how healthy your diet is. Taking daily supplements will make sure you get the right amount."
Please do tell us about your vitamin D experiences below…