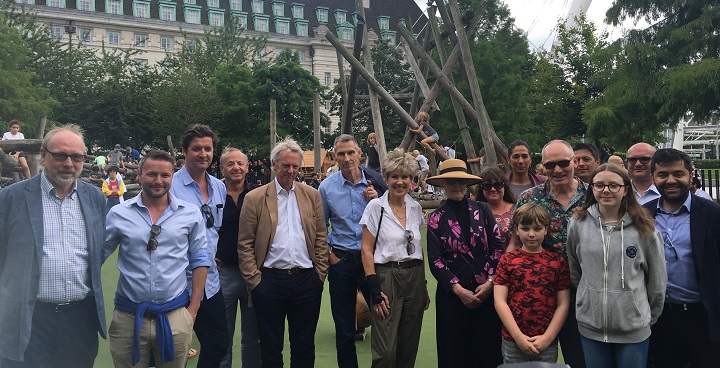 The well-loved Jubilee Gardens are owned and managed by The Jubilee Gardens Trust, who welcomed leader of Lambeth Council Cllr Jack Hopkins, and Mayor Cllr Ibrahim Dogus, to mark the official re-launching of the playground that originally opened in 2012.
After seven years of wear and tear from such heavy use, the playground's most recent makeover saw a much-needed £80,000 upgrade, including a new safety surface and new equipment to improve the play value for younger children.
The cost of the makeover was met by Lambeth Council, using funding secured by the Council through the adjacent Southbank Place development.
'Delighted'
Cllr Jack Hopkins, Leader of Lambeth Council, said: "It's great to be here on Jubilee Gardens and to see how they are enjoyed by so many thousands of people as a break from the busy South Bank.
"The council is delighted to support the playground improvements which will benefit local residents and visitors alike. The extraordinary success of the South Bank is vitally important to Lambeth and its economy.
"The council is very supportive of the Jubilee Gardens Trust in its work to maintain the Gardens to the highest possible standard."
Jubilee Gardens Trust
Unusually, for a prime Central London open space, Jubilee Gardens is managed by a small locally based charitable trust, comprising representatives of local residents, businesses and adjacent landowners.
The Gardens are maintained to a high standard and are extremely popular with local residents, employees and visitors to the area from London, the UK and all over the world – some 8 million a year.
'Proud'
Ted Inman, Chair of the Jubilee Gardens Trust, said: "A safe, welcoming environment for children is imperative for all major cities, and we are exceptionally proud to boast one of Britain's best-used playgrounds.
"Jubilee Gardens and its newly re-vamped playground offers a much-needed open space amidst the hustle and bustle of this busy city, and its popularity is testament to it being loved by residents, visitors and businesses alike.
"Lambeth Council is a key partner in our efforts to look after the Gardens and we really appreciate Lambeth's support for these much-needed playground improvements. We will continue to work closely with the Council to ensure that we maintain Jubilee Gardens as a jewel in the crown of the South Bank."