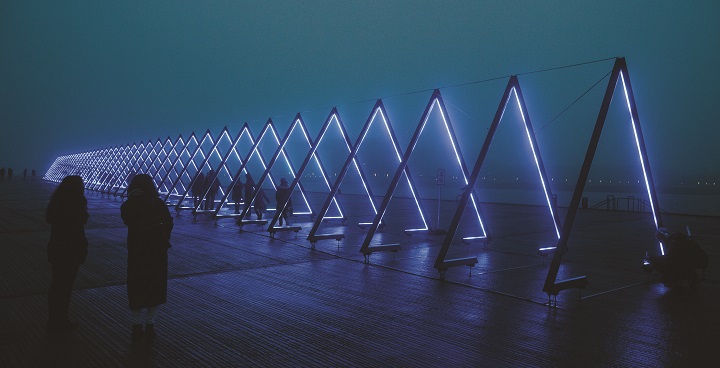 The UK's largest light festival is free to visit and takes place north and south of the river Thames – including Lambeth. Everyone is invited!
Lumiere lights up London
Bigger, brighter and bolder, the Lumiere London light festival returns for a spectacular second edition. More than 50 artworks transform buildings and streets into a dazzling nocturnal art exhibition.
Lumiere London is commissioned by the Mayor of London, funded through a mix of public and private funders, sponsors and donors, and produced by Artichoke. It's a world-class free festival from Thursday 18 to Sunday 21 January 2018, 5.30pm-10.30pm each evening.
The people's lights
This year Lambeth has involved local communities in creating two artworks to go on display in Lumiere:
Bottle Festoon –  Lambeth ran workshops where local people worked with an artist, turning recycled plastic bottles into amazing eco-friendly chandeliers for Bernie Spain Gardens.
Umbrella Project –  Cirque Bijou will choreograph volunteers from local community groups in pop-up performances with colourful LED umbrellas around the festival.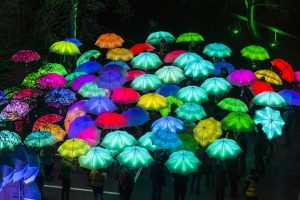 Lambeth highlights
Lambeth hosts work by international art stars:
The London Eye – lighting up the South Bank with a custom-designed display "Eye Love London".
Images of dancers' feet projected onto the Rambert Building (Upper Ground).
Vivid tubes of fluorescent light twine like ivy on Oxo Tower Wharf.
Thames Pulse at the Mondrian Hotel (Sea Containers House) translating live data about the health of the river into light displays.
The Wave – 40 triangular, luminous gates that react to movement and sound, turning audience into artist.
the National Theatre's flytower transformed into a luminous monument.
The Hayward Galley's unique pyramid roof slowly changing through the spectrum from red to violet over 60 minutes.
Pink neon 'Raspberry Ripple'– on one hand its message is sweet and fruity, but it also reclaims words once used against people with disabilities.
For more information
For more about Artichoke and art installations they have organised in London and all over the world, see their project pages or Follow: @artichoketrust on Facebook, Twitter and Instagram