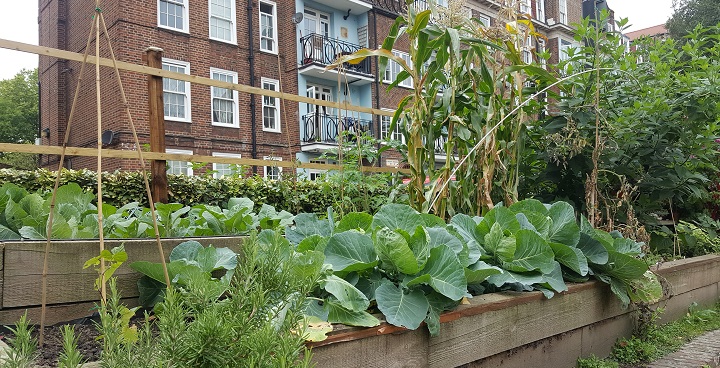 There's a real buzz in Lambeth around food growing, with local communities growing herbs, vegetables, and fruit in more than 200 spaces across the borough.
Hear it from the innovators
Thursday 9 November is your opportunity to hear more about two innovators supporting community food growing: Lambeth Council's Edible Living scheme for estates, and Myatt's Fields Park Food Hub supporting local people.
Our research shows growing is good
The event draws on research by Coventry University – research that shows how community food growing can have a positive impact on people's lives, giving them the opportunity to spend time outside, and with their local community. It saves people money, and the food is much tastier than buying from shops. 'Growing your own' promotes better physical and mental health and wellbeing, makes people feel connected through meeting others. Community food growing also provides opportunities to connect socially. It's accessible for people who are experienced and for complete beginners, no matter how much or little time you have.
Urban growing
Projects which support and promote community food growing are particularly important in urban areas like Lambeth where people report feeling isolated, may not have their own garden, and may live in a food desert.
Support for growing
In Lambeth there is a lot of free support available for start-up gardeners – from raised beds, equipment and seeds to teaching sessions and advice from dedicated community gardeners.  So come along on Thursday 9th November to find out what's in it for you!
Edmundsbury Community Hall is open to everyone on 9 November from 2pm – 3pm for free soup, cake and hot drinks and a short film about community food growing in Lambeth – what community food growing means to people and what support is out there.
---
More information
This event is funded by the ESRC – Economic and Social Research Council – and is part of their annual Festival of Social Science week taking place across the country. Each year, the Festival of Social Science is aimed at promoting and increasing awareness of the contribution of social science research to the wellbeing of the UK society to the public. The ESRC Festival of Social Science event is run by Coventry University and supported my Myatt's Fields Park, Lambeth Council and Urban Growth.
Contact Coventry's Centre for Business in Society contact cbis.info@coventry.ac.uk or follow the Centre for Business in Society on Facebook
For more information about Edible Living Schemes on Lambeth Estates email the Resident Engagement Team in Lambeth Housing Management at gettinginvolved@lambeth.gov.uk.