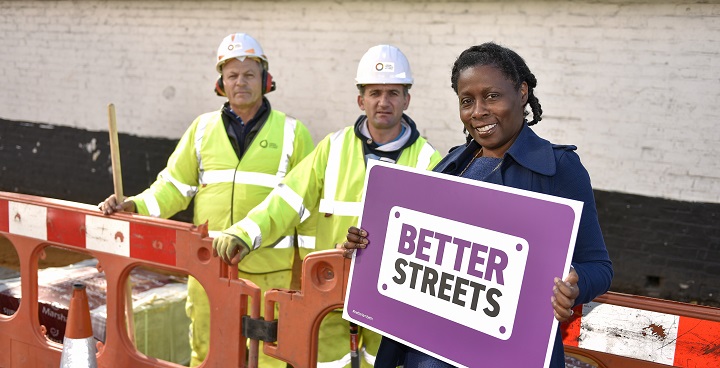 One thing that exemplifies our Better Streets work quite literally is the 130 miles of Lambeth's roads and pavements we are committed to resurfacing.
A promise we made in our manifesto in 2014 is well underway through what we call the Highways Improvement Programme, or HIP, and is improving the condition of Lambeth's roads and footpaths for all users.
Fantastic value
By planning the schedule of works in advance, the programme of road resurfacing is actually cheaper than carrying out emergency works every time a pothole or cracked pavement appears.  And aligning up with other Better Streets work like tree planting, sustainable drainage and public realm improvements, it really does deliver fantastic value for Lambeth residents.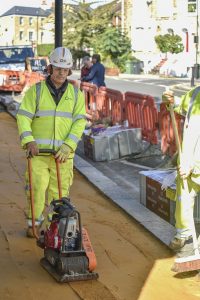 I recently went out with the road resurfacing team in Pulross Road, Brixton.  They are doing a great job and making a real positive difference for residents.  You can see a full schedule of works on the Highways Improvement Programme (HIP) webpage.
We work closely with Transport for London, the emergency services and neighbouring boroughs to keep disruption to a minimum and all affected residents receive a letter at least ten days before the works start with details about how they might be affected (in terms of parking and access etc.)
More information
You can find out more and register for updates by visiting our Highways Improvement Programme (HIP) webpage.
Call to government
Cllr Brathwaite has written to the Secretary of State for Transport, outlining the importance of this work and requesting that additional funding be provided to local authorities to tackle potholes and poor road conditions.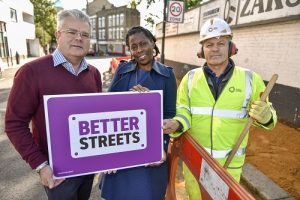 ---

See how you can get involved to help us create a Better Lambeth for everyone, through our key campaigns:
Read the latest Better streets, parks and open spaces news.