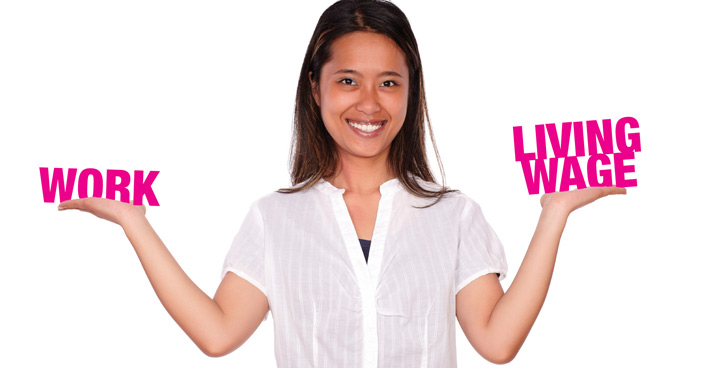 We became a living wage employer in November 2012 because we believe a fair day's work deserves a fair day's pay. This needs to be enough for people to live on or else it isn't fair on anyone – the Low Pay Commission estimates that low pay costs the taxpayer between £3.6bn and £6bn per year.
Over half of people living in poverty in the UK are in a family where someone works. The rise of in-work poverty is a real concern for residents – more working people are relying on benefits and turning to food banks and payday lenders.
Good for employees
We want to do what we can to make a living wage a reality for people who live in Lambeth as well as those who work for us. For those aged 21 or over this could mean an increase of £86.55 for a standard working week.
Beatrice Sodzi, a cleaner at Archbishop Sumner Primary School saw her pay rise when we renewed our facilities management contract with Cofely. We were able to guarantee a living wage for all 154 employees, as well as making savings of 20 per cent. Beatrice said "our salary was increased giving us a better quality of life, keeping us happy, that is also a motivation for us to do a better job"
Visit the Living Wage Foundation's website to find out more about the living wage and who pays it.
Good for business
Paying the London Living Wage makes sound business sense and more than 80% of living wage employers thought their staff performed better because of it.
Residents paid a living wage will have more money in their pockets to spend in local businesses.
It's popular with consumers too and helps them see a business as an ethical brand – like the Fair Trade mark.
We want to celebrate employers across the borough that pay the London Living Wage, such as Table Talk, the New Economics Foundation and the National Literacy Trust. We also want to support those who want to become one. If you're a local business who pays the London Living Wage let us know – we can put you on our map and let you have discounted advertising rates in Lambeth Talk. Contact aquigley@lambeth.gov.uk