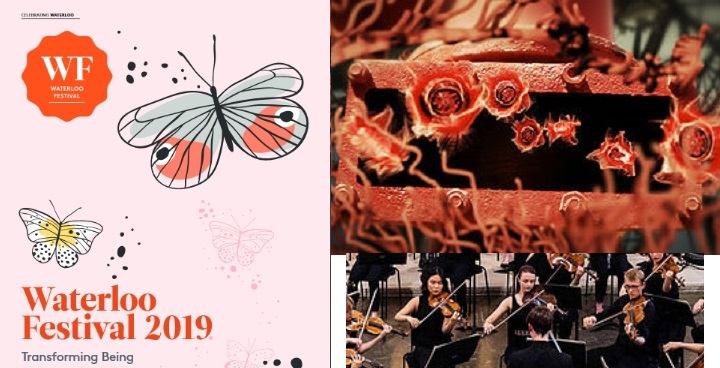 This year's Waterloo Festival theme, 'Transforming Being', continues our journey of transformation, diving deep into the synergies between well-being and creativity.  It's all about connecting people and ideas and we invite you to join the experience. We are also privileged to carry the 1951 banner of the 'Festival Church' and hope to revive the legacy of the Festival of Britain's impact on this fast-changing area of London."
Connecting the arts and business communities
The Waterloo Festival has developed to incorporate not only the congregation at St. John's but collaborators and partners within the artistic and business community of the local area, such as Morley College and The Cello Factory as well as leading community organisations like Coin Street Community Builders."
What's included in the festival?
The programme varies from orchestral concerts to contemporary music, from poetry to singing, from walks and green activities to outdoor sculpture exhibitions and discussions on social issues."
Thurs 6 June free Rush Hour Concert TRANSFIGURED with Southbank Sinfonia/
Fri 7 June 8pm Eid Celebration Screening premiere of Algerian film drama UNTIL THE END OF TIME /
Sat 9 June 7pm Rumi's Circle: DIVINE REMEMBRANCE – featuring Dervish dancing
Weds 12 June. BREAKFAST TALK with Wellness in the Workspace expert Michal Malton.
Thurs 13 June Jessica Cottis conducts our Gala Concert
Wed 19 June Tanya Cracknell, The Grime Violinist.
Friday 21 June Ceilidh Tree make their Festival debut in a good cause, raising money to renovate St John's Waterloo. Limited tickets for this one, so book quickly.
For more information
Browse the full calendar for workshops, spoken-word poetry, new theatre, music by Bach, Mahler and much, much more.
See the festival magazine for more in-depth features on some of the highlight events
For showtimes, ticket prices and to book for festival events, see the online booking pages