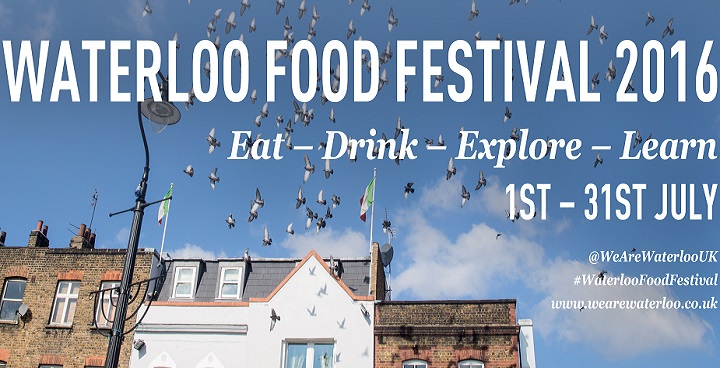 Now in its eighth year, this year's Waterloo Food Festival will be running throughout July with a packed programme of food and drink events, free tastings, masterclasses, offers and competitions. From gin masterclasses and beer tastings to brunches, lunches, supper clubs and banquets we have an event to please every palate!
Waterloo Food Festival Launch
Join us as we kick off Waterloo Food Festival 2016 with a FREE street party along Lower Marsh.
Jam-packed with activities including chocolate truffle making, Yo! Sushi maki rolling competition, a supermarket herb pesto workshop, you can even carve your own musical instrument out of vegetables with the London Vegetable Orchestra.
Visitors can also sample food and drink from many of the area's favourite restaurants, cafes and food businesses as they set up stalls along Lower Marsh for the evening.
There will be late-night openings from some of the businesses along the street, and live music from bands including Latin Dimension, Capital Chorus, and Garance Louis.
Festival highlights:
 'How to start a food blog' a talk from the family blogging team behind What Dad Cooked;
Free tastings every Saturday in July at Greensmiths, one of London's favourite artisanal greengrocers;
Waterloo Food Festival for kids: two days of family-orientated activities 20-21 July including treat-making & cake-decorating;
Oasis Farm Supper Club. Attend a special meal at one of London's urban farms, depending on the weather either under the stairs or in a fairy-lit polytunnel;
Panel Discussion: The Future of Food – a panel of food entrepreneurs explore the changing landscape of food politics and sustainability, chaired by Rosie Boycott.
…….and lot's more!
Check out our Gastro Passport for full events listings and all the offers & competition details
Don't forget to share your Waterloo food experiences and photos with us too on twitter @WeAreWaterlooUK
#WaterlooFoodFestival