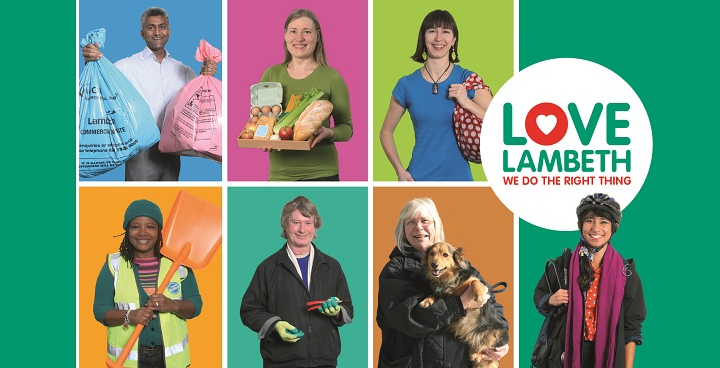 Meet Rajan, Hanna, Orsetta, Valcie, John, Ann (with Alfie) and Michaela. Over the coming weeks we will feature their stories about how they do the right thing and why.
There are many ways to Do the Right Thing to keep Lambeth cleaner and greener, below are just some of them:
Recycle or Donate
There are so many ways to recycle or donate unwanted items in Lambeth.
There are three different services which collect recycling from your home; weekly recycling collection service (recycling sacks), food waste (kerbside properties only) and garden waste (kerbside properties only).
For many other items there are Recycling drop-off points situated all around the borough. To find your nearest location and what can be recycled there please view the Recycling banks and centres map. This map also includes public libraries, shop collection points and charity shops.
Community Freshview
You could organise a Community Freshview and bring your neighbours together for a day to spruce up your street. This could include brightening up a green space, giving a facelift to a disused area of land or any other activity that improves the local environment. We will help residents do this by giving equipment, expertise and some extra helping hands.
The feedback from participants has been really positive and it's been amazing to see the difference they have made. Take a look at the Facebook group to read more at www.facebook.com/CommunityFreshview
Contact the Community Freshview team by email Freshview@lambeth.gov.uk or visit the Community Freshview webpage.
Green Champions
You could become a Green Community Champion to help inspire your neighbourhood to be more environmentally sustainable. We can help you by providing support, advice, information and connecting you with useful contacts.
Contact the team by email greenchampion@lambeth.gov.uk or visit the Green Champions webpage.
Snow Wardens
We appreciate that no one wants to think about snow now that spring has finally sprung, however we are always happy to sign people up to become a Snow Warden. You can volunteer individually, or as part of a group to help keep your street safe in the winter by clearing ice and snow from the pavement. All snow wardens receive tools and training.
Contact the team by email SnowWardens@lambeth.gov.uk or visit the Snow Wardens webpage.
We want to hear your stories
Would you like to share your story about how you do the right thing to keep Lambeth cleaner and greener?   Do you know someone who is doing the right thing within your community?
Please tell us in the comments box below or tweet #DoTheRightThing