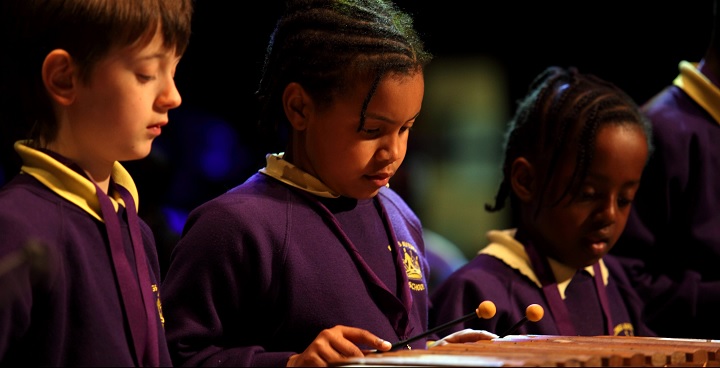 The opening concert features an incredible 1,800 young singers accompanying the magnificent Royal Festival Hall organ. This is part of the Southbank Centre's Pull Out All the Stops festival, which celebrates the culmination of the six-year project to restore the organ.
Lambeth Music Festival coordinator, Oliver Bayley, is planning a week to remember – especially for the young performers who have the chance to take to a stage that plays host to famous musicians from around the globe.
From singing concerts in the Royal Festival Hall to rock concerts in the Festival Village, under Queen Elizabeth Hall, there's something for everyone.
To get your free tickets
All performances are free but ticketed. Tickets can be booked via the Southbank Centre Ticket Office.
For more information
Visit www.lambethmusic.co.uk and follow @lambethmusic using #LMFest14
About the events
Monday 31 March, Royal Festival Hall
2.30pm – Infant Concert
5.30-6.30pm – Junior concert
The opening event of the Lambeth Music Festival, featuring over 1,800 school children. Hear Infant and Junior pupils perform a range of choral music singing alongside the newly restored organ. This celebration of singing and choreography is a stunning spectacle, and includes folk music, world music and pop tunes. Featuring the Lambeth Music Service All Star Band, and conductors Kirsty Keogh and James Cleeve.
Tuesday 1 April, Queen Elizabeth Hall
3:30pm – String Ensembles Concert
7:30pm – Large Ensembles Concert
Wednesday 2 April, Festival Village under Queen Elizabeth Hall
1-2pm -Lambeth Music Festival Junior Contemporary Ensemble
From folk bands and percussion to New Orleans-style brass ensembles, a vibrant slice of Lambeth schools' music.
5-6pm – Lambeth Music Festival Senior Contemporary Ensembles
Rock, pop, acoustic and jazz groups from all over Lambeth, including performances from the innovative Young Producers' project.
7pm – Lambeth Music Network Event
Thursday 3 April, Queen Elizabeth Hall
1.30-3pm – Lambeth Music Festival Primary Choirs
As part of Southbank Centre's Chorus festival, some of Lambeth's finest primary school choirs performing their choice of repertoire.
Friday 4 April, Cross-site venues
ALL DAY -Secondary Choir Performances