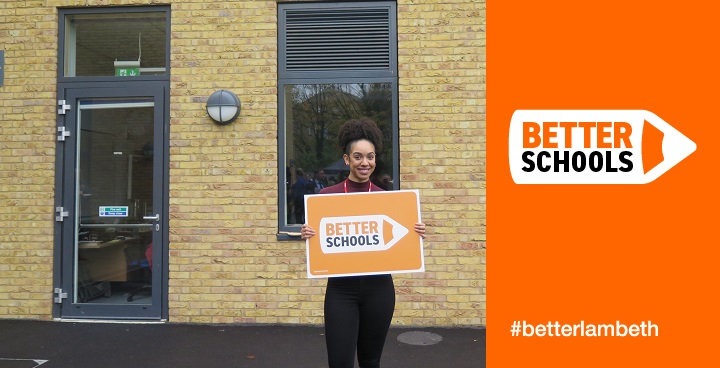 Pearl, who plays Bill Potts, was taken on a special tour of the school, which has been redeveloped on the same site with 14 purpose-built classrooms and new facilities including a science laboratory, two art rooms, a fully equipped sensory room and a room for ICT and Music.
She then held a special question-and-answer session with Year 12 students, and later handed out certificates to some of the pupils. When she addressed pupils from all years, in the new hall, Pearl said it felt like her first day on the long-running series – when she came face-to-face with 150 of her new colleagues.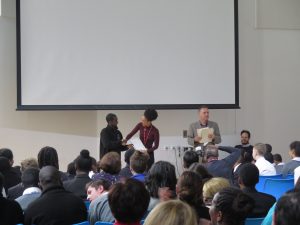 "It's been absolutely incredible to see what you guys do here and the amazing things you do in all your classrooms," Brixton-born Pearl said. "But standing up here in front of you makes me a little bit nervous. It reminded me of my first day at school, and also my first day on Dr Who.
"Peter Capaldi [Doctor Who] put his arm round me and says 'Everyone, this is Pearl Mackie'; and I was just thinking 'how am I going to remember all these people's names?'."
Quite a journey
The plan to rebuild Lansdowne, a secondary school for young people who have special educational needs, was given planning permission over two years ago. It had been decided that the original building, originally designed as a primary school, was not longer fit for purpose as a secondary school. The proposed development – financially supported by the Education Funding Agency (EFA) and Lambeth Council – also allowed for an increase in pupil places at the school.
Linda Adams, Lansdowne's executive head teacher, said the project had been temporarily delayed at one point when it was suspected that the original building had been built on a cemetery. She paid tribute to the work of the EFA, the Council, staff, pupils and neighbours, in getting the project off the ground.
She said: "It's been quite a journey. It seems appropriate that Pearl is our guest of honour to officially open our new school today as it's felt like we'd got into the TARDIS and moved from one time zone to another when we moved from the old Lansdowne building into this fabulous new school.
"We had no specialist buildings; we had nothing that was fit for purpose for children at a secondary school in this day and age."
The new build consists of 14 purpose-built classrooms on two floors, each with a sensory area and smart board. Between classrooms there is a breakout area with computers, where students can work independently or regain focus with 1:1 help if needed.
There are two Art Rooms – one with a kiln room; a Food Technology room with eight individual work stations with ovens and hobs to encourage independent working; and a school hall for assemblies and sport. On the second floor is a large Learning Resource area with a library and spaces for individuals and class groups to work.
Word from the cabinet
Lambeth Cabinet Member for Children and Schools, Cllr Jane Edbrooke – who was also at the ceremony – said: "Rebuilding this school, with its wonderful new facilities, has been a long and often frustrating process, but everyone connected with the project has been totally committed to it throughout. This event was a celebration of the achievement of the school, the council and the local community in transforming these plans into reality.
"But it was also a tremendous opportunity for the pupils and the staff to showcase all the great work that goes on at Lansdowne on a daily basis. They are a great advertisement for education in Lambeth."
---

See how you can get involved to help us create a Better Lambeth for everyone, through our key campaigns:
Read the latest Better schools news.