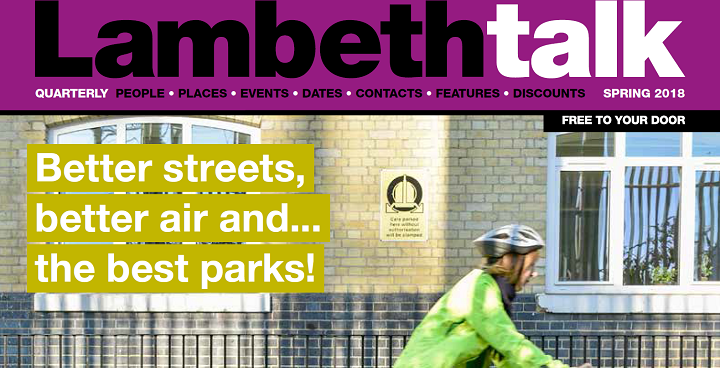 In this edition:
Carnegie Library reopened returning Lambeth's library service to its full complement of ten libraries across the borough.
Improving public spaces. We work with local residents, community groups, social enterprises and partner organisations to deliver better looking, more accessible and user friendly streets and open spaces.
Our magnificent parks. Lambeth's parks have been ranked best in London in a new report by charity Parks of London. Visit our 14 Green Flag awarded parks and find out what the Parks Team at Lambeth do for spring cleaning.
Lambeth's Freshview project works with residents to help them improve their streets. The project is celebrating with the creation of a brand new community garden in a well known rubbish dumping hotspot in West Norwood.
Improving the air we breathe. As a council we know that residents' health is at risk and we are determined to improve air quality in our borough. Sign up to receive free AIRtext alerts and forecasts.
Cutting bus pollution. Following a campaing by Lambeth Council, the Mayor of London, Sadiq Khan, has agreed a Low Emission Bus Zone in Brixton Road.
Bikes for hire. The popular cycle hire scheme Santander Cycles has arrived in Brixton with seven new docking stations and 200 bikes for all. Find your nearest docking station and enjoy the ride!
Veolia, Lambeth Council's waste contractor, has agreed that staff on the contract will be paid the London Living Wage. Lambeth has been shortlisted as a London Living Wage Champion in the 2018 awards.
Hillside Gardens. A new site currently occupied by dilapidated garages has been chosen for the development of four two bedroom homes all of which are to be rented at council level rent.