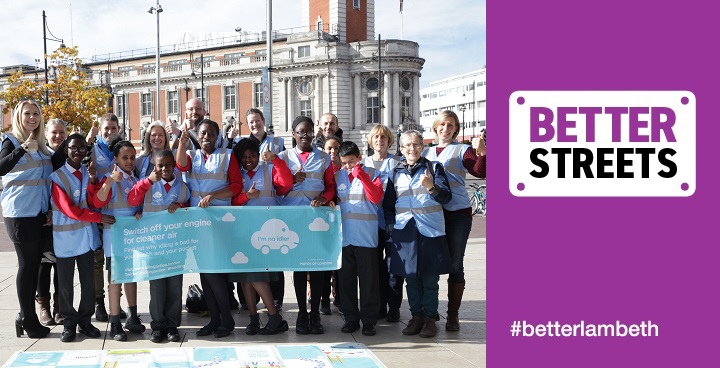 Cllr Jennifer Brathwaite, Cabinet member for Environment & Housing, wrote to the Secretary of State for Environment, Food and Rural Affairs asking that he make a series of commitments that will tie the UK government to strict air quality standards and collaboration with other EU countries even after the UK leaves the European Union.
Lambeth leading the way
Lambeth Council is a major voice in tackling air pollution in London, and is already implementing many initiatives to tackle dirty air that is harming local residents.
The council has successfully lobbied Transport for London for a clean bus corridor through Brixton – one of the worst polluted areas – and installed a pollution-blocking 'green screen' at St Helen's Primary School just off Brixton Road.
As well as being one the capital's most cycle friendly boroughs and working to reduce car use and idling by drivers, Lambeth has also urged residents to take up the fight for Better Air by making pledges to change certain behaviour and held the borough's first ever Clean Air Week earlier this year.
Demanding commitment from government
In her letter to the Secretary of State, Cllr Brathwaite said: "As current standards on air quality are determined by EU legislation, there is a strong fear that leaving the EU will lead to the dilution of strict air quality standards to suit short-term economic and political pressures.
"The current cohesive working on research and mitigation across nations is also at risk, with the UK limited in its access and influence over European policy makers."
She went on to ask for commitment from government on four major themes:
Collaborate with other European countries to reduce air pollution
Commit to bold action to tackle air pollution, even without pressure from EU regulation
Give assurance that the UK will not discard or water down EU air quality standards following Brexit
Continue financial and political support for collaborative research with other EU countries
Cllr Brathwaite's letter in full
This is all part of Lambeth's commitment to making the borough a cleaner, safer and more pleasant place to live, work and visit.
---

See how you can get involved to help us create a Better Lambeth for everyone, through our key campaigns:
Read the latest Better streets, parks and open spaces news.